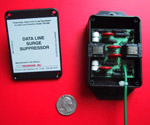 Click for detailed image
ORDERING INFORMATION
The TSS-300 should be specified to protect electronic equipment that uses an 8-pin modular connector to connect to the data line/network. The TSS-300 provides protection on pins 1 and 2 (transmit data) and pins 7 and 8 (receive data) of the modular jack interface.
Optional 18" RJ-48 jumper cable is part number CBL-300-18.
The TSS-300 is a very heavy duty data line surge suppressor designed to protect sensitive electronic equipment from damage caused by voltage transients. The TSS-300 is designed to protect equipment connected to high-speed data channels such as SynchroNet® DSU-CSUs, DATAPHONE® DDS, and local area data networks.
What distinguishes the TSS-300 from other suppressors is our unique three-stage design. Very high speed bi-directional SIDACTORsTM work in combination with MOVs and three-element heavy-duty gas discharge tubes to provide a suppressor that has an extremely fast response time yet can also dissipate large amounts of energy. Inter-stage wirewound resistors provide better surge current handling than competing carbon-film designs. Wide PC board traces and ground planes provide additional surge handling capability.
MAXIMUM SPECIFICATIONS
Surge Current
ANSI C62 (8 x 20μS) Pins 1-2-G, 7-8-G
20,000 Amps

Energy Dissipation
10 x 1000μS pulses at 500 Amps
2,000 Joules

Instantaneous Clamping Voltage
Pins 1-2-GND, pins 7-8-GND
+/-58 Volts P-P

Clamping Time
~ 1 nanosecond

In-circuit Series Resistance
10 ohms

Capacitance (Pins 1-2 and 7-8)
50 pF

Input/Output Jacks
USOC RJ-48S 8-pin modular receptacles
Protected pins 1-2 (transmit) and pins 7-8 (receive)

Ground Wire
18-inch AWG 16 stranded with #10 ring terminal

Mounting
Double-sided adhesive square or screw mount

Size: 2.5"W x 4-3/8"H x 1"D

Enclosure: High-impact, injection-molded ABS plastic