WELCOME!
Thanks for visiting our website. My name is Mike Tucker. I started TECHNICOM in 1987 to address the demand I saw for custom-designed electronic products. At the time, I had been working as a design engineer for Process Systems, Inc., a company that specialized in the design and manufacturing of electronic metering products for the electric utility industry. Initially, most of the products that we designed, prototyped and manufactured at TECHNICOM were for the electric utility industry—today, we provide custom products to other commercial and industrial clients as well.
All of the products you see on our website were designed in response to a customer's specific requirements…Many of the products were designed as "retrofits" to existing electronic equipment—for example, our OPTOCOM upgrade kits add optical communication capability to existing in-field equipment. Why replace functioning equipment when you can add a feature for a fraction of the cost of installing a completely new device? One of our specialties is upgrading and retrofitting existing equipment.
TECHNICOM can also provide contract manufacturing services. If your company uses electronic assemblies in a product that you manufacture, TECHNICOM may be able to supply an equivalent (or enhanced!) assembly at a lower cost.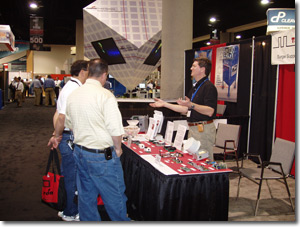 Mike Tucker visits with customers
at the DistribuTECH show
These are my goals for TECHNICOM:
Exercise honesty in all that we do;

Treat all customers and suppliers as we ourselves would want to be treated;

Work closely with clients to establish win-win business relationships;

Design, prototype and manufacture a quality product at a fair price;

Provide unparalleled support after the sale.